Afrikaanse Dans
met een hart voor Afrika
International
Dance Workshop
THE
PROJECT
o
Description
Since 2015, the association SOL'ŒIL D'AFRIK undertakes
programs of capacity building, meeting, sharing and professional
exchange in order to dynamize the dance sector in Togo. These
programs are nourished by the desire to explore and exploit the
richness of traditional African dances in contemporary
choreographic creations. The international dance course "D'BA" is
both a professional exchange between artists from different
continents and tourist discovery where all the dances of the world
are mixed.
o
Objectives
Our main objective is to gather in one place, professional, semi-
professional and amateur of dance for intense moments of
sharing, exchange and discovery. Also we hope through this
internship to promote the cultural, artistic and tourist potential of
Togo
o
The
content

-

Togolese traditional dance

-

Contemporary Afro

-

Yoga

-

Mandingue Dance

-

Horton Technique & ABG Method

-

Tourism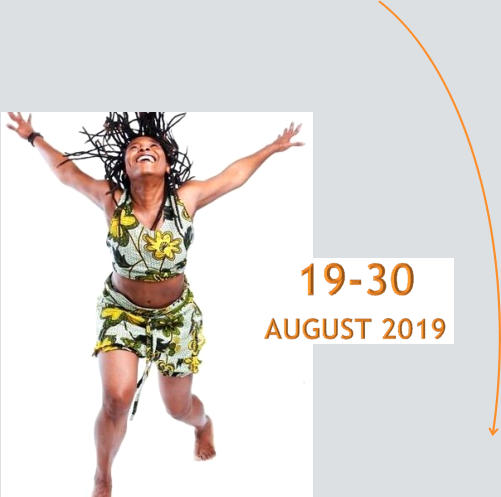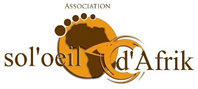 o
Accomodation
All trainees from outside Togo will be accommodated in the Hotel PESCO
(former king plus, avenue Pya) two per room. The hotel is located in the
city center, on Avenue des Evalas, in front of the Djidjôlé traffic lights.
o
Rates
-
Internship + accommodation + 3 meals / day + tourist trip ------- 700 Euros
-
Internship + accommodation + 2 meals (Morning & midday) + tourist outing ---- - 600 Euros
-
Internship + accommodation + 1 meal (Midi) + tourist outing -------- 500 Euros
§
The Teachers
ZOHAR Karny, Israel
TECHNICAL HORTON & ABG Method
Zohar is a dancer, choreographer and biomechanical anthropomechanist based in TelAviv.
Trained at the Thelma Yelin Institute of Performance Arts and Classical Ballet,
Modern Dance Technique (Graham, Lemmon, Horton) and Contemporary Dance (Gaga).
She was a student under international teachers and choreographer such as: Naomi Perlov,
Rose Sobol, Idan Shaarabi and Milton Myers.
Over time, exposed to West African culture, including music and dance,
Karny began to explore rhythmic work, percussion and body culture in Africa, particularly in Senegal
and the Wolof region. .Her work combines Western dance and traditional dance of the African diaspora to
create a singular body language: ABG PROJECT. Today,
Zohar strives to promote traditional and contemporary African dance to the dance community in Israel
Kossivi Sénagbé AFIADEGNIGBAN, Togo
AFRO CONTEMPORARY
Kossivi Sénagbé AFIADEGNIGBAN is Dancer, choreographer and artistic director of the
association

SOL'ŒIL d'AFRIK

of Togolese nationality,Born into an animist family,
he made his first contact with dance during ceremonies and voodoo rituals where rhythms, songs,
traditional dances intertwine.
He intensified his professional training and perfected himself at the

« Ecole des sables »
of Germain Acogny where he obtained his certificate in "traditional and contemporary
African dance" and "Art of teaching dance".
His work as a choreographer feeds on the wealth of traditional Togolese dances.
Sonja Van Bockstaele,
Belgique YOGA & MANDINGUEAL DANCES
Sonja Van Bockstaele is a yoga dance teacher and choreographer; Director of the Kassoemai
association, she is trained by different masters in Europe. In 1989, she went to Africa to
research the function and strength of traditional dance in Africa. She deepened in
the traditional Mandingue dance in Guinea during her tours as a member of the "Merveille
de la Guinée" under the direction of Kemoko Sano, choreographer of the national
ballet of Guinea. With Salia Sanou, she discovers and practices more and more Afro-
contemporary
dance
from
2010. She is involved in training at the CDC La Termitière
where she deals with training in traditional Mandingue dance but also in yoga dance
pedagogy (a complement to dance that helps tokeep the body in balance and to dance more consciously and correctly).
Koffi- kégou AFIADEGNIGBAN, Togo
DANSE TRADI. TOGOLAISE
Koffi-kégou AFIADEGNIGBAN is a dancer/interpreter currently training at CDC-LA TERMITIRE in Ouagadougou. He
lets himself be lulled by traditional Togolese songs and rhythms from 2009 with the traditional dance company
AMENOUVEVE where he takes his first steps in dance and follows his first professional training.
After several years as artistic director of this company, he intensifies his professional training by
participating in several internships in the sub-region.
Since 2018 he is based in Ouagadougou as part of the contemporary dance training

« YELEN
DON »
at the La TERMITIÈRE choreographic development center
PRATICAL INFO
The host country
Togo
is an African country south
of
the Sahara with a tropical climate with a minimum temperature of 30 ° C in summer.
The small size does not prevent Togo from being recognized for the great diversity of its landscapes: a sandy coast lined
with coconut trees in the south, hills, green valleys and small mountains in the center of the country, arid plains and large
savannahs planted with baobabs in the north. To travel to Togo, you must complete formalities including the visa. You
will have more information to better prepare your travel
by clicking on the link below: https://www.evaneos.fr/togo/voyage/informations-pratiques/visa/
le porteur de projet
SOL'ŒIL
D'AFRIK
is
a
cultural
association
created
in
2015
by
Togolese
dancer- choreographer Kossivi Sénagbé
AFIADEGNIGBAN with the aim of working on the revitalization of the dance sector in Togo through the initiation of cultural
projects. Since its creation, the association has already initiated several

training

projects

for

dancers

in

the

West
African

sub-region,

including "TRADITIONAL

DANCE

AND

CREATION

OF

TODAY",

an

annual

workshop

session in choreographic

tools.
A touristic site
Kpalimé is a tourist town located 1 hour 30 north of Lome with a landscape always green even during the dry season with the most beautiful forests of Togo.
The city has the largest craft center in the country where a large number of artists and craftsmen have settled: wood carvers, batikeur, potters, weavers,
calabashers. The area around the city is lush and fertile, encircled

by thick wooded hills, deep valleys and small peasant villages. The many walks and
nature walks lead through the trails to discover the daily life of local people who live mainly from

agriculture
Headquarter:
Lomé, 153 Aflao Gakli Street, House N°52
Phone : (+228) 92 31 02 75 / 92 39 17 17